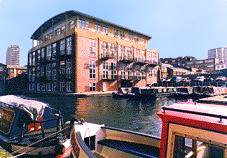 We are in unique positions at Sherborne Wharf, in the heart of Birmingham on the BCN to serve all type of boaters for overnight, short term or long term moorings.
Sherborne Wharf offers easy access to the BCN, Worcester & Birmingham and Birmingham & Fazeley Canals. 5 minutes from the International Convention Centre, National Indoor Arena, National Sealife Centre, Broad Street and Brindleyplace. Large supermarket nearby, only five minutes walk away. Birmingham New Street Station and city centre only ten minutes away.
The place to be for the 2022 Commonwealth Games
Our customers can choose from a wide range of berths where facilities, services, location, and permitted use (i.e. residential or leisure use) will vary.  You will be asked to provide proof of residential address for applications for leisure moorings, as well as proof of Insurance, licence & Boat Safety Certificate for your vessel as with any residential boat. 
Winter Moorings with 'Heart of the city' access and 'Heart of the city' shelter
Facilities available with electricity, water, elsan, pump-out and refuse disposal are available.  There are laundry facilities close by, as well (chargeable) car parks, within 100 yards of the Moorings.   (Chargeable) WIFI signals are excellent but cannot be guaranteed.
Moorings Management
Mooring System Dependant on Availability
In some situations, we may choose to let an available mooring via an auction process. With term periods of three, six, nine or lengthier timespans.  These are subject to availability.  On occasion, there may be 'Special Offer' moorings where we may consider 'best Offers' from customers for a berth which has become available. 
Price Setting
We carry out regular price assessments which involve examining occupancy levels and an analysis of data.
Brokerage Levies
Customers do not have given rights to sell their Vessel on site!  We charge 10% of the selling price to be given the right to sell their boats within Sherborne Wharf.  However written permission will need to be granted before such a sale.  this rule will be strictly enforced and any deviation will result in a vessel being immediately removed from Sherborne Wharf Moorings with the loss of any remaining term.
Fees
for a detailed information sheet and application form Please contact us on 0121 455 6163
or