School trips
Our boats offer a clean, warm and insured environment for schools.  We invite party leaders to visit and inspect the on board facilities.  Our staff are fully trained, qualified and enthusiastic to show pupils the wonders of the local waterways.  We have run our school trips for several years, and have often liaised with the schools liaison officer at the 'National Sealife Centre'. Our trips are ideal for all ages, with out tailor-made commentary and history of the canals .
Trip number one
Start and finish at ICC
Usually we sail from the Quayside at the International Convention Centre and a one and a quarter hour cruise will take you around the Oozells Street loop, up the main line, round the Icknield Port loop, back down the main line past the National Indoor Arena, through the I.C.C., under Broad Street, into Gas Street Basin, turn at Salvage Turn and then back to the I.C.C. and Brindley Place. This trip shows Birmingham 'ancient and modern' and how the canals made the city prosperous.
Trip number two
ICC to Cambrian Wharf
As Trip One but, on our return, we swing right into Cambrian Wharf, and finish at the top of Farmer's Bridge Locks. The boatmen can demonstrate how a lock works, but because of water restrictions, we cannot actually travel through a lock. This is the ideal drop-off point for a visit to the Sea Life Centre and to explore the Farmer's Bridge flight of locks.
Booking Enquires
To confirm a booking we require a 50% deposit and the full hire fee paid 14 days prior to departure.
Small print! We must point out that all canal travel times are approximate only, and depend on unforeseen circumstances! We must stress that maximum numbers are laid down by Law, and we can not carry more than the stated limit for each boat. We regret that any wilful damage caused must be made good by the hirer concerned.
We hope we may have the pleasure of your company shortly.
'Ariel' the waterbus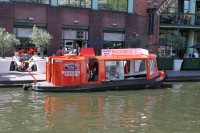 'Waterbus Service' around the canals of Birmingham
Find out more